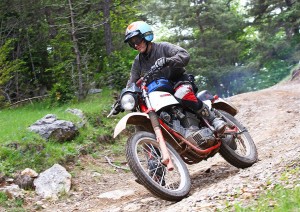 1981 Morini 500 Camel
It is rumoured that only six Morini Camels were imported to the UK. If that's true, this is one of them. It belongs to former Classic Bike editor Hugo Wilson who featured its rebuild in the magazine in 2011/12. That's him in the pic, riding it.
The bike needed a complete new loom, built from scratch with a new wiring diagram. I also serviced the switchgear, adding new cables to the original contacts.
To start with I followed the factory wiring diagram but a) it had a mistake in it and b) for quick assembly Morini originally built the loom in three sections. A redesign made it much lighter and simpler.
We then made it more complicated again with an unusual two-battery conversion (one 6V, one 12V) invented by Morini expert Benjy Straw, to ensure that the headlight stays bright at tickover. The Italians weren't big on strong charging systems back in the 1970s.