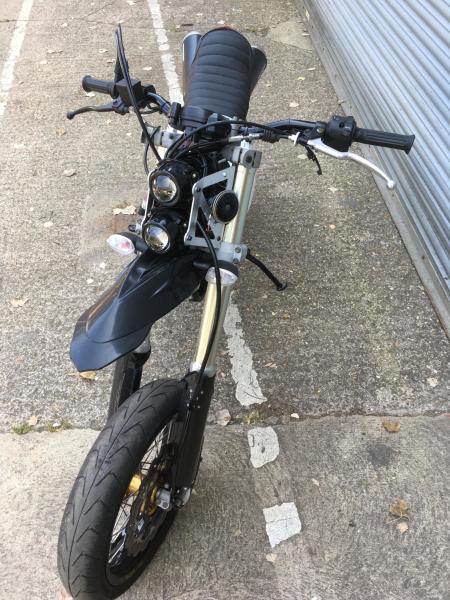 Andrew's Yamaha XT500 special
Every now and then someone brings something wildly different into the shop. Meet Andrew, who has assembled a cunning mix of Yamaha parts around an XT500 engine and frame. It's got XT660 mudguards, WR450 forks, a WR426 swing arm converted to twin shock, R6 switchgear and MT-03 silencers. Not to mention a Koso speedo, a powerful front brake and stacked headlights.
The trouble is that Yamaha originally gave the XT feeble 6V electrics. The solution was a kit from Rex's Speedshop which provides their carefully developed, made-in-Sussex CDI igniton and 12V charging. The kit is designed to plug into a stock bike, but with a few cable extensions it fitted Andrew's concept perfectly. You don't have to worry too much about ignition timing when you fit the stator, because you can fine tune it with a strobe and a special screwdriver (supplied) once the engine is running. (Rex's website is an extremely useful bike electrics information source – the tech section is crammed with hard-won knowledge.)
The switchgear needed wiring differently to turn the lights on and off via the hazard switch. I've also found you need a three-pin flasher unit (ie with an earth pin) to operate the Koso dash's indicator warning lights. To keep things away from the underseat exhaust as much as possible, most of the connectors and cables ended up at the headlight end. Only the tail light and number plate wiring, and possibly the battery, get within a few inches of the silencer box. Fortunately the Koso comes with a temperature sensor which will allow Andrew to keep an eye on heat buildup.
XTs have a reputation of being hard to start but this one kicked up easily, even without the decompressor cable connected. Rex are experts in designing CDIs that work over the full rev range, from kickstart to the redline.