1976 Zagato Guzzi 950 cafe racer
Definitely one of the more complicated jobs I've done. There's a lot more in this Guzzi than you might first think.
Nigel at NBS built the heavily reworked engine. The tank is a beautifully crafted custom job in aluminium, and the seat (with integral rear light) pops off via a secret button. Sidepanel paint is black with a Zagato "Z" in flip metallic. Guzzi's original forks have been transformed with GSX-R internals fitted by Darren at MCT in Stowmarket. Shocks are Koni but will soon be Öhlins. Electrics are based around the Motogadget system, which includes push-button switchgear, an LED dash, a proximity ignition switch, a power management unit (known as an M Unit), a can-bus system in the headlight to carry the dash signals (known as an M Button) and LED lights throughout. Brian also used Silent Hektic ignition and an Electrex World regulator rectifier. My job was to join that little lot together. The pics show various stages in the build.
Motogadget stuff is beautifully made and works well – but it's also very complicated to install, mainly because its micro-current system uses very thin cables. The headlight ended up full of little step-up joints made with Deutsch connector pins sealed in heat shrink. Not cheap, but very elegant. The starter button is the big yellow thing in the headlight shell.
The speedo pickup on the rear wheel sits on the caliper carrier. Steve Baker at Q Prep (round the corner from my workshop) did the machining for this delicate job.
Here's what Brian said once the bike was complete:
"My Zagato Guzzi had been three years in planning and build, so naturally I was fussy about who I would trust with the specialist electrics. I'd checked out an earlier job of Rupert's at a show (the Honda CBX cafe racer) and I was very impressed.
"Rupert didn't let me down – such great personal service. He patiently answered my questions and talked through my daft ideas. Quality work and a great guy to deal with.
"I'm so chuffed with the result. It's exactly as I imagined. Thanks Rupert."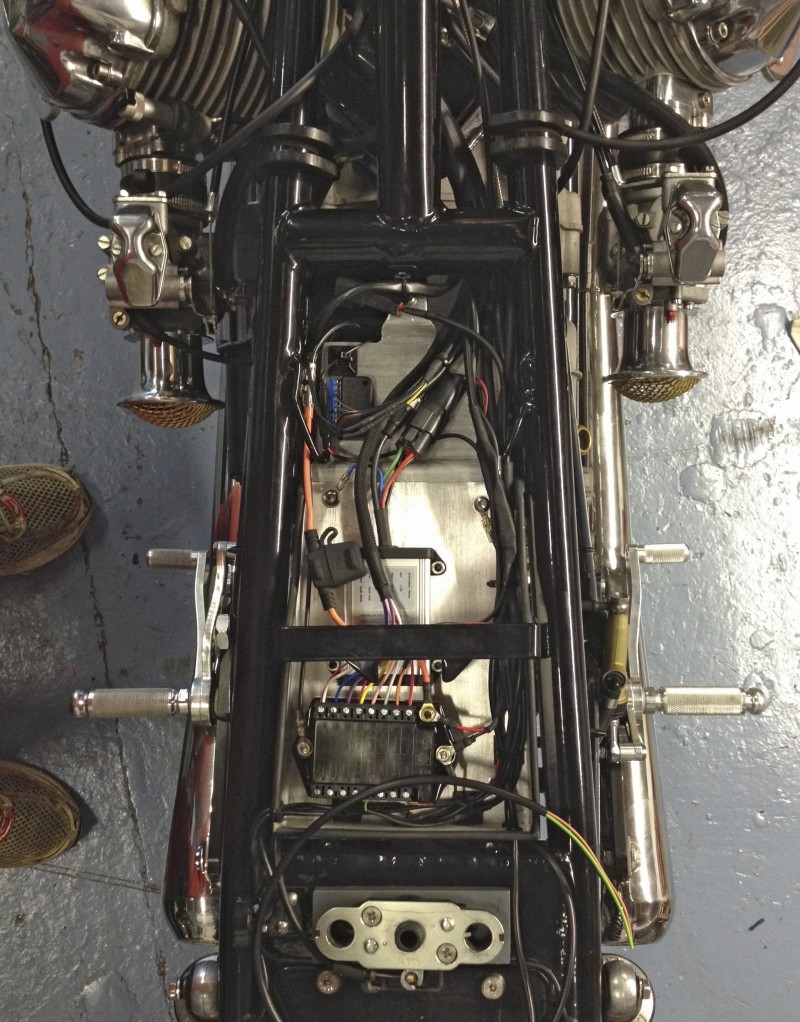 Guzzi 850 cafe racer: Under seat done.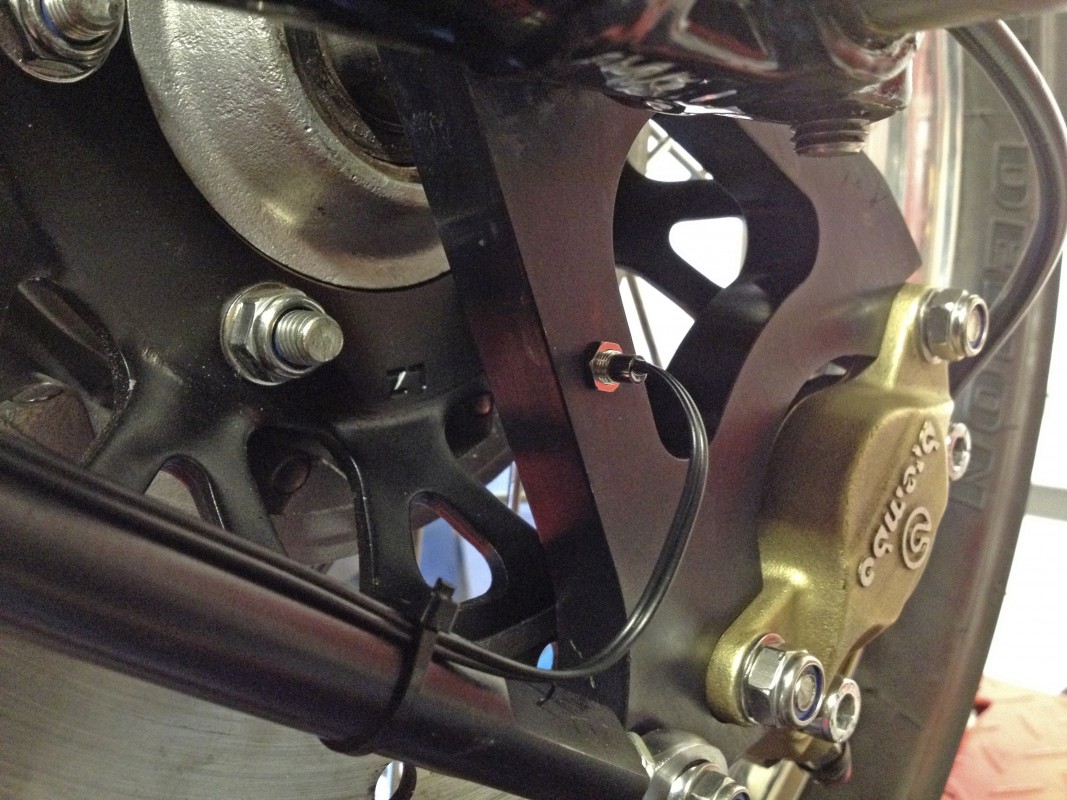 Guzzi 850 cafe racer: Speedo sensor.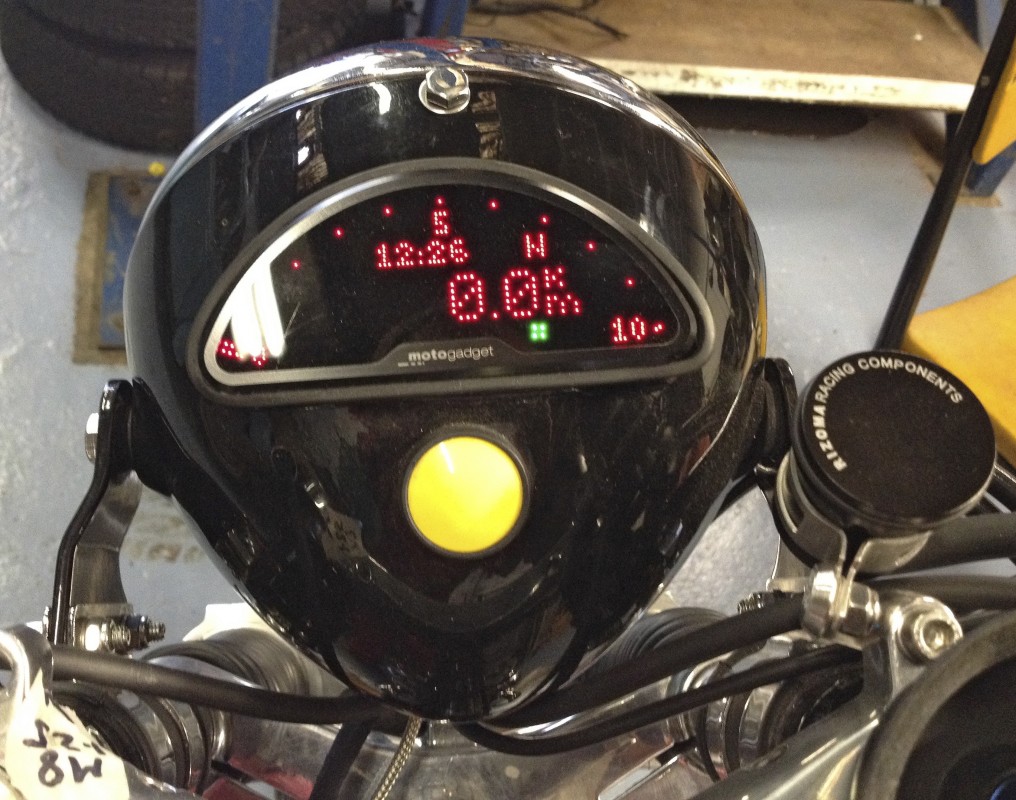 Guzzi 850 cafe racer: Motogadget clock.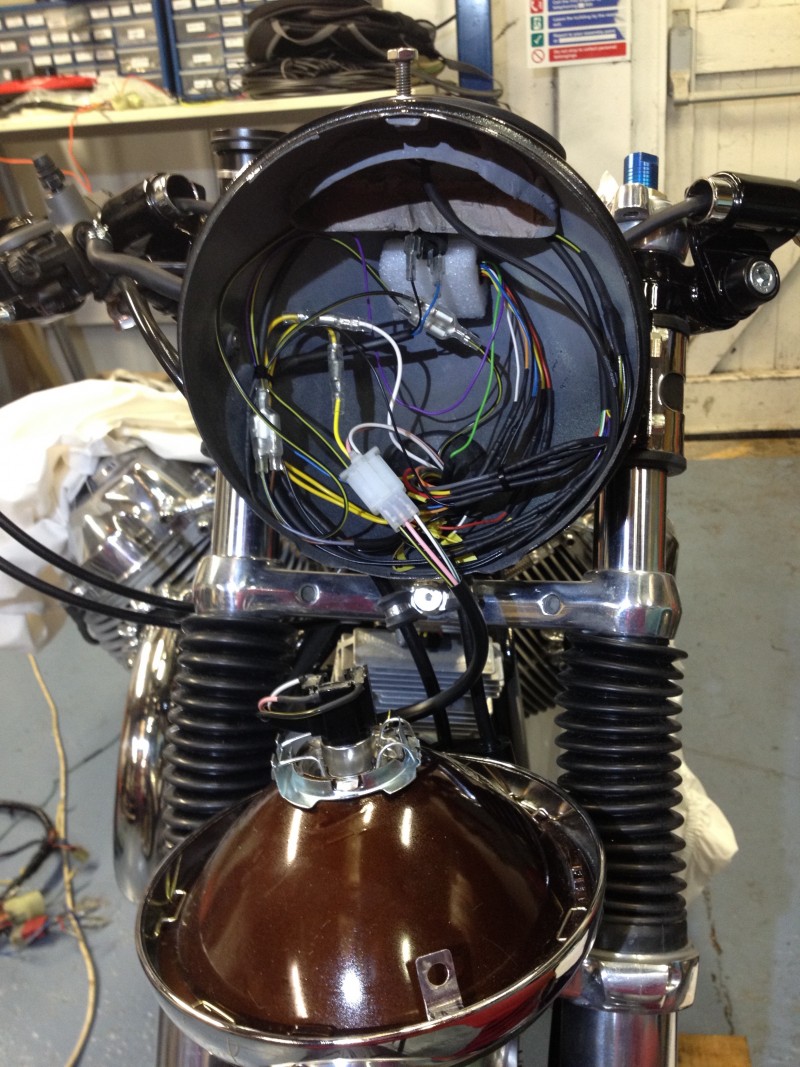 Guzzi 850 cafe racer: Headlight done.